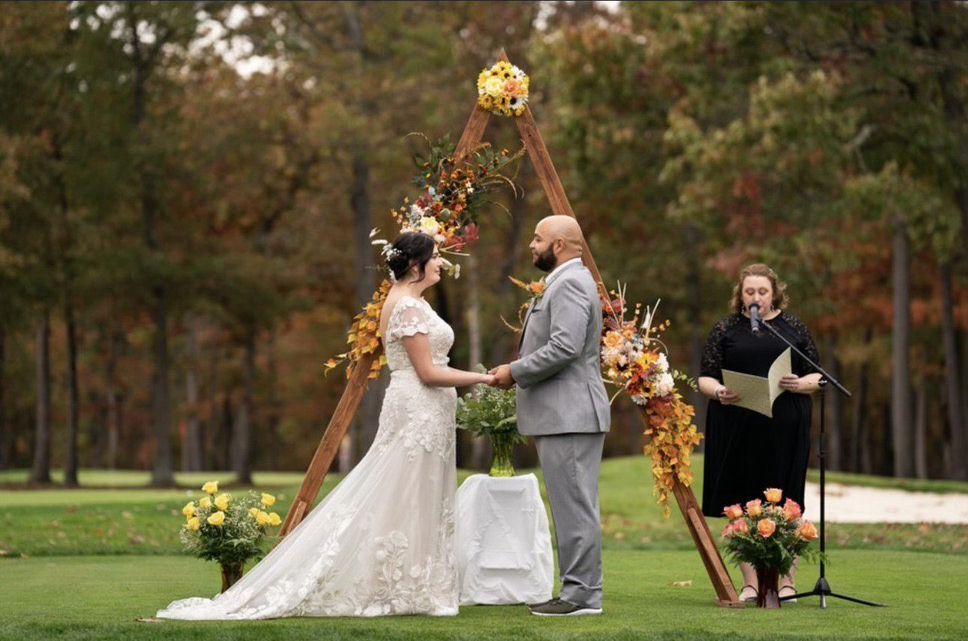 All of our packages include a personalized touch. We'll begin with a meeting to review your couple questionnaire. This will help us get to know you and your particular preferences. We can provide readings for you to browse through, or we can make more specific suggestions. Your ceremony will be fully customizable because we want to ensure that it reflects your unique love story. After the ceremony, we will take care of filing the marriage certificate on your behalf. This allows you to focus on enjoying your wedding night and/or honeymoon without any additional stress. Our goal is to provide a seamless and memorable experience for you and your loved ones.
"Dreamy" Wedding Ceremony Package
Short and sweet without sacrificing personalization. This package includes a brief introduction, storytelling, a reading of your choice read by the Officiant, exchanging vows and rings, and the start of the celebration. Quality remains uncompromised, but you'll get to the party quicker!
"Romantic" Wedding Ceremony Package
This option is for true romantics who want a more in-depth ceremony. This package includes a unity ceremony and multiple readings can be included with designated readers (a great way to include friends and family in the ceremony). The invocation will dive deeply into your love story and how you arrived at this moment. This option provides a more comprehensive and meaningful experience for you and your guests.
"Glamorous" Wedding Ceremony Package
For the couple who wants it all! Rehearsal time… yes. Multiple readings… yup! Unity ceremony… of course. A keepsake copy of your ceremony so you can always look back and remember your day… YES! This package is going to give you everything you could want in a wedding ceremony. We can add, subtract, multiply, and divide this package to ensure that you and your guests will remember your ceremony for years to come.